I have a very exciting announcement to share with you! There is a FANTABULOUS place for home educators to spend some time meeting and networking with other home educators! Tiany from
Live Love & Learn
has opened up
The Homeschool Lounge
for us!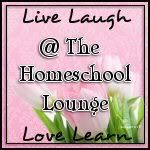 The
The HomeSchool Lounge
you will find an open forum for discussions, as well as groups for specific topics. All of the most visited homeschool blog writers will be there waiting to welcome you as well as the writing team from
The Heart of the Matter
. You can customize your very own homeschool "Nook" and add the RSS feed from your blog righ t to your nook for all your new connections to keep up to date on the latest happenings in your educational world.
There's just so much fun happening there among our wonderful homeschool bloggy friends and we are WAITING FOR YOU! So come on over and get signed up, it's FREE! SO come on over and find me once you're there and add me as your Lounge Sister! I have coffee waiting at my little nook. ;O)