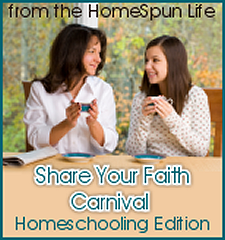 Welcome to our first Share Your Faith Carnival! In this carnival we are featuring those who have volunteered to share how they share their faith in regards to homeschooling. Has there ever been a time when you were able to share about homeschooling with another family and see them make the decision to bring their children home?
Sharing your faith is a very important part of the Christian life and any facet of your Christian life should be shared with others. Now I'm not teaching you to go door to door to tell all your neighbors about bringing their children home, however there are times when you may be at the park or at a BBQ and the conversation inevitably sways towards the topic of children and education. How do you bring up talking about homeschooling without them thinking you're a nut who doesn't discipline or socialize your children?
Here are a few tips to keep in mind when sharing your faith about home education:
Do not criticize the public or Christian schools.
Do compliment the parents in their desire to give their children the best in education.
Do not express that homeschooling is the ONLY way to educate.
Do share about your family's close relationships.
Do not use a negative tone of voice or critical spirit about their decisions.
Do 'kindly' share what your children enjoy doing.

Do not 'brag'.
Sharing our faith in regards to homeschooling should never be about competition between education styles. I have found it best to answer incoming questions with caution, kindness, and humility. I allow them to ask questions and the Holy Spirit does the rest in their own hearts. We never want to come across as snooty, perfect, or self-righteous. Always be loving and understanding to what the parents are facing in their academic struggles.
These ladies have volunteered to write about how they share their faith about homeschooling. I hope you will enjoy what they have put together for you.
Kristina from
At Home, On Fire
this is a short testimony of how we came to find "
the shoe that fits
", namely homeschooling.
Kysha from
Love's School
, writer at Heart of the Matter, wants to share a
Word of Encouragement
with you about homeschooling.
Trina from
Daddy's Little Chicks
says that this is how she got to
where she is today.
Melanie, a military wife, from
My Journey Within
says that As a family in the Navy dealing with frequent moves and deployments the Lord led me to give my son the
only stability
that he could have through me staying at home and home schooling him.
Deborah from
Songs From My Journey
shares a look back over
twenty years
to how her family got started homeschooling.
And a special lady in this carnival, who is the mother of
Miss Alyssa
who write at
Growing in Grace Magazine
, Urailak, from
Living For God
shares their homeschooling
journey
from the beginning and how the Lord has carried them through.
Last but not least is Jean from
Speaking from the Heart
shares how the seed to homeschool was cultivated 3 days after the birth of her first child. However, she wasn't aware of God's plan until many years later....(
continued here
) She also has added a Mr. Linky for her readers to share their faith as well.
May the Lord bless your testimony of homeschooling and we pray that your example to the world will be one that leaves a lasting good impression.
The next Share Your Faith Carnival will be the 'Marriage Edition'. I am scheduling this carnival for May 23rd because we will be at Disneyland for two weeks in May. But please do send in your submissions! The Marriage Edition will be about how your marriage has stood through the test of time. Maybe your marriage has been criticized by others, temptation sent your way to destroy the relationship, the loss of a family member, or simply difficult financial times. The objective of this carnival is to bring Glory to God in how He led you and your husband to make the marriage work. Share your blessing of how Great God has been to your marriage by sending in your:
Name
Blog Name
Blog URL
Title of Post
URL of post
And a brief description to thehomepsunlife@gmail.com