What kind of teacher would make a 5 year old child with Asperger's Syndrome stand up in front of the class and allow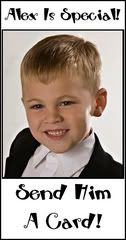 the students to take turns telling this little guy what they don't like about him and then hold a vote to see if they really want him in class or not? Well that exact teacher did just that to this adorable little guy. My dear friend Jacque wrote an article about this and my heart sank! Just as her title says, "Voted Off The Kindergarten Island" I just have to say that this certainly does sound like the TV shows 'Survivor' and even Discovery Kid's own 'Endurance'.

Is this what we have to look forward to in the future? Will our sons grow up to work for a corporation that will allow their fellow co-workers to call the shots?
I heard about the episode of Survivor where the women manipulated the man into giving up his only source of protection as they plotted against him.

Those are just television shows people! Not a teaching video to instruct you on how to treat children! Just imagine what would happen if that teacher did this to a child of color?!? Please swing over to Barbara's blog, MommyLife, to see the interview she had with Alex's mother. And please do send him a card to let him know that he IS special!