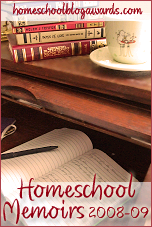 HSBA is hosting their
FIRST Homeschool Memoir for moms
! Come on over and meet all the other mothers involved in this very unique meme! Today they're asking about YOU, the author behind the homeschooling kiddos.
So here I am, Sisterlisa, the mom! I have four homeschooling children, Jessica, Monica, Gina, and Timmy. I enjoy blogging and reading, I absolutely love homeschooling! I am married to a ministry husband and serve as the Program Director of
The Sarah Home
. I am privileged to teach the Bible, and Christian living to some amazing women who WANT to have their lives changed. I love the color pink and semi-sweet chocolate, yes Nestle's Chocolate Chips are the best in my opinion.
I am on the team at the
HSBA
and I own
Growing in Grace Magazine
. I enjoy working with the
Dixon
family on this publication and am thankful to have them on the GGM team. I also enjoy writing at
AGMinistries
, my devotion site for women. When I was in school, (Yes, I grew up in that public school system) I very much disliked English, grammar, and writing. However, now I love writing. I'll admit I'm not a pro when it comes to sentence structure, but now I'm studying English right along with my kids. My favorite subjects are, Science, Math, and Geography!
I wake up early so I have time to blog and stay up late to IM with The Dixon family.(As often as I can!) My kids have never been in the government school system, but rather private schooled for many years. When we felt led by the Lord to pursue homeschooling, not only did we fall in love, but became convicted that it's a Biblical mandate. Our children will not go back to 'school' again. I highly recommend Robin Sampson's book '
The Heart of Wisdom
' and use your local library OFTEN!