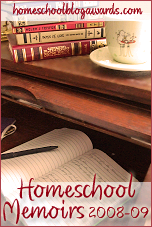 This week's Homeschool Memoirs meme asks about our homeschool routine. I'm glad Miss Jocelyn used the term 'routine', because I cringe at the term 'schedule'. There's just no way we can stay on a strict schedule. We do however tackle each topic in order each day.

I wake up at 5:30 for quiet time with the Lord and for ME time. Have coffee and begin the laundry. While the computer boots up I empty the dishwasher. Then I grab my coffee and head to my devotions. I read my AOP devotion every morning to get encouragement about my homeschooling position. I read my Bible and pray for the day. I check my e-mail for the prayer requests our church sends out and pray again for those requests.

Jess gets up and reads her Bible and prays, then each child begins to trickle out of bed. We're all up and at it by 6:30 or 7. (Depending on how late we were up)

We tidy a bit then have breakfast. Everyone gets dressed and we get to the table.
1. Bible memorization/ Bible Curr. A Beka
2. Handwriting/Copywork
3. Spelling/Grammar
a.Phonics for the little ones

b. Cut n' glue (or tape when we can't find the glue.) (mental note to buy more glue)
4. Math
a. Recess for the little ones
5. Math for the little ones
a. break for the teens

Tuesday & Thursday: Science
Mon-Wed-Fri: Geography and History


Daily 12pm-1pm: Lunch
Mon-Wed: Dad teaches Bible Study at 11

Thursday and Fridays: test for Math and spelling

Every afternoon we have quiet times for reading. We read extra books for Geography, Science, History, and Social studies (A lot of this is on the internet reading news stories)


We hit the gym for PE 3 days a week and the other days we play in front of the house or go to the park for recreational PE.

At night the teens get in their creative writing times for Growing in Grace Magazine. It's a great way for homeschool girls to send in their submissions for publication.

Then at various times of the day we do extra homesteading activities such as cooking, cleaning, sewing, gardening, etc.

At night, daddy sits down with them and asks about their day. They enjoy telling daddy how they worked ahead in their books. Today Moni worked ahead in Math by 3 whole lessons. HUGE difference from the 'I hate Math' spirit she had when she was in Christian School. Jess expects to finish her Math Curriculum by the end of the first semester. She'll then begin her Senior year math and be done with Senior math by the time she finishes this year as a junior.

Timmy sat through Gina's math lesson on multiplication and he understood the concepts! I'll have him sit through her lessons each day, but still do his own. Maybe next year he can breeze through his math and get ahead too.

Want to see what other homeschool moms' routines are like?