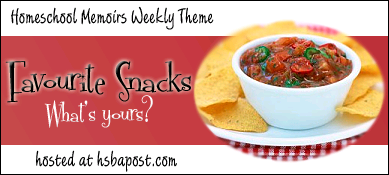 This week's meme at
HSBAPost
asks us what kind of snacks we enjoy! This is great because my children are always looking for fun snack ideas. We'll share a few of ours:
*Celery with cream cheese and raisins
*Tortilla pinwheels
*Nachos
*Crackers with Cheese (Especially the
cheeseball recipe
!)
*Graham crackers with peanut butter
*Peanut butter roll ups (tortilla with peanut butter and cinnamon)
*Chips and Salsa
and I suppose this is a good time to get those recipes posted somewhere. Be on the lookout at MJ's Cooking Show for further updates!