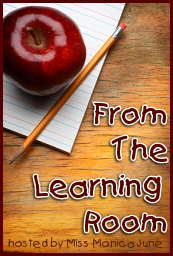 From The Learning Room

What I'm reading: The People Called Baptist by Michael Johnson
This is a very interesting layman's study of the history of the Baptist movement dated back as far as the days of Christ. Although some dates are not exact, there is enough evidence to get a clear understanding of their history.

Bible Verses: Proverbs 31:10-25

Bible Principles: I learned about the danger that can come from improper eye contact. GGM will be publishing my study on it in December.

Devotions: HS: You Can Do It, Christian Womanhood: Stop! by Cindy Rushton

Prayer: Praying for our ministry's founder who had complications during prostate cancer and now must have radiation.

History: Watched a trailer for The Boy in the Striped Pajamas and read the Discussion Guide.
Although this is a fictional film, it portrays what life would have been like during the Holocaust. It opened in only 2 major theaters on November 7th and if it does well, it will spread throughout the United States. I pray it comes to my town so we can see it.

Baking: I baked chicken last night and will donate the recipe to The Cooking With MJ Show later this week.

Homesteading: Quick mopped our tile today with a safe disinfectant to help collect the dust.

Choose your own category: Toys for Tots We are sending out the toy request forms to local agencies this week. Two trucks delivered gifts and we took them to the storage unit today. Tonight I speak to a group of local people who want to help collect donations to help the needy children in our town.

Photography: I haven't had much time at all to snap any shots, although I did send one into TOS and they posted it here. (Towards the bottom on the right) I did get a good shot of a tree where Charlene lives, but haven't gotten it off the camera yet.

If you have a homeschool student that would like to participate in sharing their education with the other kids, join Monica each Tuesday at From the Learning Room.





Also see:
My Recipes
My Homeschool Posts
My Homestead Posts