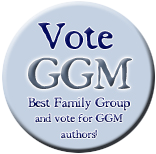 Vote for GGM and
WIN a $20 Gift Card to Toys R Us and a CD of the GGM issues of 2007
!
Growing in Grace Magazine is counting down to the final results of the Homeschool Blog Awards and we want YOUR vote!
You only have til Friday!
We have a special treat for you! If you vote for GGM at
HSBAPost's Awards Page for Best Family/Group Blog
and
promote the vote to your friends we'll enter you in for a chance to
win a $20 Toys R Us Gift Certificate to use for the holidays and a CD of the PDF versions of all our issues from 2008!
You have 3 Chances to win!
Here's what you need to do:
**VOTE HERE!** For Growing in Grace Magazine
Enter me ONCE, I
: Blogged About the Vote and include the link to this announcement for your friends to vote as well! (Be sure to invite them to blog about this too for their chance to win as well!)
Confirm your entry by
Commenting below to let us know you blogged!
Enter me TWICE:
Tweet to your Tweety friends to Vote too! Include the link to this announcement link!! AND
Follow us on our Twitter page
!)
Confirm your entry
by Direct Messaging our Twitter Page.
Enter me THREE TIMES
: Share this vote with your Facebook Friend as well! AND Join our
GGM Blog Network at FB
! And share the link to this announcement!
Confirm your entry
by leaving a comment on our Blog Network wall.
(*Note: You must join our Twitter and Facebook pages in order for us to count your entries in those chances.)
And if you'd like to join more fun that this you can
vote for some of our authors too
!

Also see:
My Recipes
My Homeschool Posts
My Homestead Posts