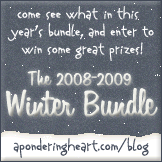 Miss Jocelyn is hosting a Winter Bundle Giveaway at A Pondering Heart. This is a giveaway you won't want to miss! ($700 value!)

GGM is approaching their deadline for the Jan 2009 issue and we're so excited! The magazine has grown tremendously since Feb of 2008. We are praying for the opportunity to go to print in 2009, should the Lord tarry His coming.

Toys for Tots has ended for my town, but I still have paperwork and a report to turn in and I must get that done above anything else today.

The Sarah Home is going to be revamped a bit as I alter some of the program to better suit the women's spiritual needs.

Shopping for the household is on the agenda as well today. We are having a small get togethe
r on New Year's Eve with Charlene and her family. I have no intention on staying awake until midnight, yet if I do the first thing I'll be doing is saying a prayer for our new year. I'll be making something that Miss Virginia is posting on GGM tomorrow. Keep an eye out for her quick and fun little recipe.

My last little note for today is that I will have NOTHING come up last minute today. It always throws a wrench in my schedule. I'd like to stick to my plan for today without interruption.




Also see:
My Recipes
My Homeschool Posts
My Homestead Posts