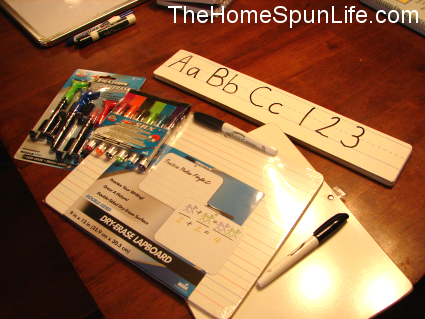 These are the coolest things for kids to practice writing on. I found the dry erase board with hand writing lines at K-Mart yesterday and Timmy tried it this morning. It worked so well for him that I went back and bought two more, including these nifty dry erase markers in various colors. Their caps have erasers already on them. The dry erase board is double sided as well. One side with lines the other side blank. It's great for practicing hand writing and doing Math.
Another thing you see in the photo above is the dry erase strips made by
MyActiveMinds.com
. I found those at Wal-Mart for just a few dollars. The package comes with 30 strips. I have invested in many of their products and have been very happy with them.
This review was voluntary, because I actually like these products and so do my kiddles. :O)