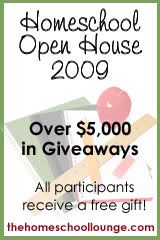 Hello Fellow
HomeschoolLounge
sisters! I am Sisterlisa, owner of
Growing in Grace Magazine
and this is my online homeschool blog The HomeSpun Life. As you can see by the home above, I like red geraniums! The home I live in now looks nothing like that, but I do have the flowers all
over my house. I have a cup of coffee here at my desk at 10 pm at night and will have at 6 am when I get up too. Can I get you some coffee?
I have been a member of THL since it first began and have enjoyed getting to know all the other moms that fellowship there. I have four children,
Jess
,
Moni
,
Gina
, and Timmy. As you can see my 3 girls are learning to blog, and Moni has three blogs herself. They write with the other homeschool girls at GGM.
We are an eclectic homeschool that learns through lifestyle learning. We find what works for our children by what their gifting is and allow them to focus on that, while getting abit of an overview of everything else. I want them to have a basic knowledge of as much as possible, but to get grounded in what their talents are.
We are a ministry family, not just with GGM, but my husband and I are servants of our Lord in a recovery ministry mission. He helps
the men
while I help
the women
. Together we all work hard to assist those wounded individuals get their lives back on track and more importantly, we teach them who our Lord is and support them in prayer and teaching of God's Word.
I am so excited about The Homeschool Lounge and I look forward to their
Homeschool Open House
. Down below you see a link that says "My Homeschool Posts" that will link you to everything I have ever posted about homeschool. My favorite homeschool links are among my sidebars, including some blogs that I enjoy visiting.
I am a multi-tasking homeschool mom who enjoys learning along with my kids. Sometimes I get more excited about their projects than they do, but ya know what? It keeps them interested and they end up loving it too.
With all we need to do each day, how do you find time to read the books YOU want to read? Do you get up early or stay up late to get that quiet time in for your favorite books or magazines?
I also want to leave you with a fun goodie down below. Go ahead and snag a homeschool mom blinky. I make them and have some here that you might like. Simply right click and SAVE AS and keep it the .gif file to keep the lights blinking. Upload to your photo hosting site and using html, link it to your blog. Be sure to let your friends know where they can get them. I'll share more fun blinkies with each coming season.



Don't know how to link in a blinky?
Begin with this symbol:
<
add these letters WITH the space:
img src
add an equals sign:
=
then add a quotation mark:
"
paste in the HTML of the direct link of your blinky
add one more quotation:
"
end with a closing tag:
>
Don't know what the Homeschool Open House is? Well let me
invite you
!

Also see:
My Recipes
My Homeschool Posts
My Homestead Posts