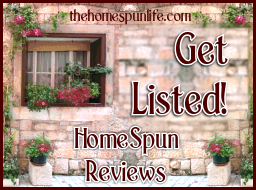 Many of the sites I have listed for homeschoolers
and their moms are from discovering them on my own, but I also review sites that are submitted to me personally.
I
do not ask for any fee to review your site,
this way homeschool moms know that my reviews are not biased for filthy lucres sake.
I reserve the right to not review a site without notification to you.
When you submit a site for me to review, you will receive an automated email response to let you know I received your submission.
Once I review your site and if I choose to add it to my directory for homeschoolers, you will be notified.
These guidelines are subject to change at anytime.

If I have reviewed your site, because I discovered it on my own, I ask for nothing in return. However, if you would like to let your readers know that you were reviewed here you can shoot me an e-mail and I'll send you the codes to display our badge on your site. However, if you have submitted your site to me to review and I choose to list it, then I do ask that you add our badge to your first page in a visible location.
What kind of sites do you review?
I am looking for sites that are helpful to homeschoolers. I specialize in providing a directory of links for
free and affordable homeschooling
, so if your product or service is a hefty investment I won't be adding it here. But I am willing to have one of our
team members at GGMagazine review
that for you and you can contact us there at ggmeditor @ gmail dot com.
I also review homeschool mom blogs that provide encouragement and resources to homeschoolers on a budget. If you are a homeschool mom blogger and feel your blog is helpful to other homeschoolers you can submit your blog for me to review.
What do I look for when reviewing a site?

I am a busy homeschool mom just like you and I don't have time to fish around a site that doesn't have easy navigation. I know that you don't either. So I'm looking for sites that are easy for you as well. I don't intend to be curt, but just to the point. Here are some tips to be sure your site has the best chance for me to review it:
Ads:
Homeschool moms are not interested in excessive Google ads or too many graphic ads on the side bars. The more graphics you have the longer it takes for the page to load. This is frustrating to people who have dial-up. If your site looks like you're in this for the money, it is more likely that I won't be reviewing your site.
Them
e:
I am looking for sites that clearly indicate what your site is about. When you look at your site is it obvious to your readers who you have to offer or do they have to seek for buried treasure? Busy homeschool moms don't have time to dig. Set your gift out on the table and don't wrap it.
Site Title:
Your site should have a title that indicates what you have to offer. Be sure the title of your site is understandable to your visitors so we know what you're all about.
Navigation:
Be sure you have buttons or links for us to navigate easily and find what we're looking for.
Communication:
I need to be able to see your name on your site right away. You need an about me page and a contact link for visitors to get a hold of you easily.
Content:
If your site has articles of information, I am looking for short paragraphs that are quick and easy to read. I don't have time to read a site that is as long as a novel and neither do other homeschoolers.
Const
ructive Criticism:
If I feel your site has valuable information for my readers, but it lacks in some of these qualities, I may shoot ya an email to let you know how I feel your site could use some updating in order to qualify for being in my listing.
What is NOT accepted:
I will NOT review sites that promote ungoldy living or vulgar entertainment. I also will not review or list a site that speaks openly in a negative way about other bloggers. I reserve the right to make this decision on my own without giving explanation for my decision.

StumbleUpon:
In addition to getting listed here, I also submit short reviews to StumbleUpon. You can see my SU reviews through the navigation home button up at the top right of my blog.
Ready to get started?
Here is what I need from you:
Name:

Email address:

Site/Blog name:

URL:

Content:

Target Audience:

Have you read and agree to these guidelines:
Please send your submission to me at:
contact {at} thehomespunlife.com
Subject Line:

Submission