Sue Patrick spoke at the
HOTM Conference
about her
WorkBox System
and while her system is very organized, it is unconventional for my tiny home. But I was inspired to adjust it to what room I do have. This rea, in the picture below, is honestly the only space I have to keep homeschool work out of a cabinet. So Jess helped me clean up the area and we bought two clear plastic boxes from Target. Each child has two boxes. We begin with their assignments being in the top boxes. I use Post It notes to place in the pages where their assignments are each week.
Each day they go to their box and pull out what they want to work on, one at a time. When they complete one assignment, that goes into the bottom box. Once the top box is empty they know they are done for the day. The two small boxes you see on top of the last box belong to my nephew and niece. They are in the middle of moving and their new home isn't ready yet. They are staying with us and homeschooling while they wait.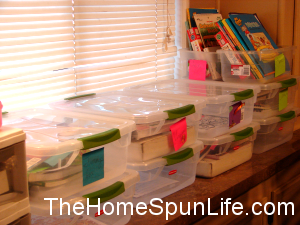 This cute little box below was purchased for me by my husband at last year's Apple Hill Festival in Northern California. So cute isn't it?