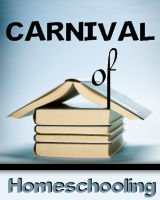 Welcome to this week's Carnival of Homeschooling. If you're featured in the carnival, please let your readers know so they can come enjoy the articles and consider tweeting it out or mentioning it Facebook? We've got some great articles this week and this carnival will cover a variety of 'subjects' including lifestyle, faith, and classical music.
We're beginning this week's carnival with the founder of the Homeschool Carnival, Mr. Cate from '
Why Homeschool
'. I chose to begin with his as the intro because I felt it was just so fitting with how so many of us feel and it goes well with the name of his blog..
Why Homeschool? To avoid jail time!
I'm still shaking my head after reading this and Mr. Cate invites you to dialogue with him about the recent news article he featured. Jail time for missing the parent teacher conference? Are you serious? oiy!
Now let's just head on over to discussing our
freedom to homeschool
with
Marine Corps Nomands
..what timing huh? She shares her lifestyle of learning and isn't that what makes a well educated adult? The fact that we are instilling education as a lifestyle of learning.
Now if you have been home educating for a while, let Christine from '
The Thinking Mother
' ask you this...
are you enjoying your homeschool journey
? Sometimes we need to step back and ask ourselves this question. I do think that sometimes we get caught up in the educating that we forget to have fun. But check out this timely poem from Karen at '
Homeschool Girls
'... sigh** Are you having those
Golden, Magic Days
?
Now sometimes being home all day every day gets us in a rut. But let's go visit Nadene of '
Practical Pages
' to get a bit of refreshment on
how to get motivated
. And it helps to know you have
fans to cheer you
on like Jessica has over at '
Teachable Moments
'. Jessica shares a peek into her homeschool life and how grace was more powerful than knowledge this week.
Now wasn't that all so inspirational? Because homeschool is more than just academic, it's relational!
Now let's jump into our academic articles this week, because we've got some informative and practical tips coming our way!
First period is with Teacher Lynda at the
Denver Homeschool Examiner
where she is giving us a
FREE downloadable Unit
for lapbooking on this month's holiday, Thanksgiving. Cultural holidays is a part of education and this holiday is one that tends to get over looked in between Halloween and Christmas. Our family has noticed this and decided to make a change in how we look at the month of November. Right here at
The HomeSpun Life
we are celebrating the
Season of Thankfulness
with a giveaway series..giveaways because we wanted to let our bloggy friends know how much we appreciate their contribution to our lives through the blogosphere.
Now lets climb up into
Dewey's Treehouse
with MaMa Squirrel as she shows us a creative tactic for studying grammar..because that's
just how homeschoolers do things,...period
. I love treehouses! You can have so much fun outside, especially when it's raining..and most especially when
Miss Nirvana
is showing us how to
study art and science in the rain
. How fun to create Nirvana together!
Do you know what tends to happen when you're educating in a treehouse? You start to dream and sometimes you dream BIG, like
Pamela
and her kids do. She knows all too well how 'well intended' comments can sometimes put a damper on those dreams, but
don't let it squash your plans
.And do you know what? I think we should walk Pamela to our next class..right on over to
Teacher Robin's blog
where they're
talking about making maps
! Pamela, your kids will have so much fun with map making for your big dream! How wonderful to incorporate Geography with dream building!
But before you head out on the road, be sure to go visit the Lunch time Teacher, Kelly, the
Accidental Homeschooler
, for her advice
about making bread
. I just love how we can learn life's little lessons during our homeschool days. Like how the
Modern Montessori Mama
shows us in
her video
about incorporating education into the kitchen. We're coming to a close, but before we do let's dive into some
Classical Music for the guys
with Hal and Melanie of
Raising Real Men
. Speaking of Hal and Melanie, did you know they wrote a book and
Annie Kate wrote a review
about it?
I hope you have enjoyed this week's Carnival of Homeschooling. Next week's carnival will be hosted by
Nerd Family
the week of November 16th. You can
send in your submissions here
.
All photos in this post were provided FREE by those who accepted my friend request at
...for Hosting, Sharing, and Selling photos. It's free to join and you can
add me as a friend
to use my Shared Photos too. To find the photographer for the above photos, simply click on them to find their photo credit and add them too.
Anyone enjoying this carnival that would like a chance to win an Advanced Membership with
just leave a comment and ask me to enter you. Advanced Members get their hosting and sharing for a year for free and the opportunity to become a seller. I'll choose a winner on Friday night 6pm (PST). Be sure you let me know where I can find you if you win. (blog URL or profile URL with contact info)
Happy Homeschooling!
Link up
Get Related
to The HomeSpun Life
My Royalty Free Shared Photos
Free Ebook
for Subscribers