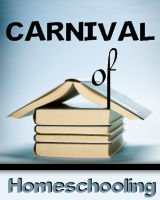 I'll be hosting the next Homeschool Carnival for Mr. Cate. So be sure to go to his site and read the directions and guidelines for submissions.

My theme will be Autumn so you might want to consider that when you create your post for this carnival.

I'm going to run a contest for this one as well. For all submissions that contain photos, I'll be looking through those photos to select someone to win and Advanced Membership to Pix-O-Sphere, our Family friendly Photo Community for hosting, sharing, and selling (or buying) stock photos.

Be sure to help promote the carnival by adding their button to your blog post and your side bar.






Link up Get Related to The HomeSpun Life
My Royalty Free Shared Photos
Free Ebook for Subscribers