With all the busyness in life it's sometimes difficult to find that peaceful moment to breathe. Daily life of doing dishes, homeschooling, laundry, and cooking has wonderful aspects to them, but finding time to just be me is so needed. I can't allow my housework to define me. My housework is not my identity. If I allowed my daily grind at home to define me I eventually feel like a slave and I need to break out of the routine and get refreshment.
I enjoy my time getting out of the house with my camera and capturing beautiful moments in this place we endearingly call Earth. I see colorful poppies and slow down to notice the color scheme the Lord created around it. The shade of orange is the perfect match for the shades of green surrounding it. I contemplate the artwork of our Creator and thank him for the display of perfection.
Some days I turn up the music in my car and listen to the lyrics of the
singers of faith
, but sometimes I need silence and He gives me the lyrics to my own heart's song. When I went to Carmel, my husband and I watched the sunset. Listening to the crashing waves then the gentle soothing of the sea foaming fizzing on the sandy shore, that was worship music to me. In my heart I soaked in the rhythm of the waves being pulled by the attraction between Earth and Luna. I listen with my ears ,with eyes closed gently, then I open them to see the painting on the horizon.
These are my peaceful moments with Him, my Creator, Father, and Protector. The One I love so deeply. I silently whisper to Him in my heart that His creation is so heavenly to my senses and he whispers back, "You are fearfully and wonderfully made" The communing between my Creator and I, a two way street. I wouldn't have it any other way. I can't allow my dining with Him in the Spirit to become routine. I won't allow it to become ritual. I cringe at the thought of our time together becoming mundane. In this loud and busy world, I want to slow down and have genuine moments with Him. Moments that are so defined by authenticity, the authenticity only He can provide. If only I'll listen.
Prayer most certainly can be different
.
I'm linking this to Ann's
Walk with Him Wednesday
. Much to my surprise her article and mine are so similar. He works among the online community so beautifully.
Soli Deo Gloria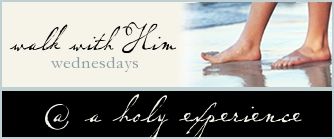 Link up
Get Related
to The HomeSpun Life
My Royalty Free Shared Photos